Share ideas, stories, and favorite books/movies/music in our online youth space: the Silver City Public Library Youth Facebook page. This page is for youth only! To receive updates about activities for youth at the library, click here to join the email list.
WildWorks
On Thursdays at 4:00pm we have hands-on projects and experiments designed for tweens and teens ages 10 and up. Participants can build robots with LEGO® Mindstorms kits, program and drive various types of robots, experiment with circuits, explore coding, get crafty, and more!
Library Arcade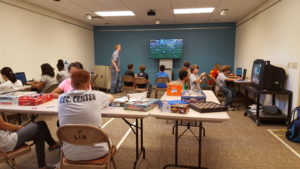 During the library arcade our multipurpose room is available for youth ages 10+ to hang out, play video games, challenge each other to board games, listen to music, and more.
Saturday, February 24, 10:00am-1:00pm
These events are free. No registration is necessary. Geared to ages 10+. Special thanks to the Friends of the Library for making our events possible.
Are you interested in some of these activities, but can't make it? Do you have other ideas for events you would like to have at the library? Are you interested in movies, music, art, technology, gaming, chess, books, manga, or something else? Let us know by posting on Facebook, commenting on this page, emailing ref@silvercitymail.com or calling 575-538-3672. Chris or Lillian will get your message!