The library is pleased to announce the return of our free concert series! There will be four concerts at the library from January through April, 2019. The concerts are free and open to the public thanks to the generous support of the Friends of the Library.
The series will begin on Friday, January 25, 6:00pm with a recital by Philippe Holmes, classical guitarist. Born in Stuttgart, Germany, Philippe Holmes grew up in Washington D.C. and attended Georgetown and George Washington Universities. He has composed, performed and produced music ranging from classical to hip-hop since the age of sixteen. In 2004 he moved to the small village of Monticello, New Mexico and immersed himself in the repertoire of Andrès Segovia. Most recently, he spent seven years in his mother's native country of France, where he collaborated on projects including Romanian music and contemporary pop/rock. The January 25 concert will be a voyage across three centuries of guitar music, as well as works of J.S. Bach adapted for the guitar. Holmes will feature showpieces from the traditional classical guitar repertoire, including works by Isaac Albéniz, Francisco Tárrega, Heitor Villa Lobos and Fernando Sor. Also included will be contemporary classical guitar pieces and original compositions by the performer. More information can be found on his website.
On Friday, February 1, 6:00pm international jazz multi-instrumentalist and composer Sagit Zilberman will perform and facilitate "Songs of Peace," an interactive global music workshop appropriate for family members of all ages. Participants will experience traditional music from cultures across the world. This workshop introduces instruments such as the didgeridoo, space drum, and other percussion instruments. Zilberman will play and sing songs from Israel, Argentina, Ireland, Africa, Australia, and the US. Audience members might be encouraged to participate with sounds and rhythms. For more information, visit sagitzilberman.com.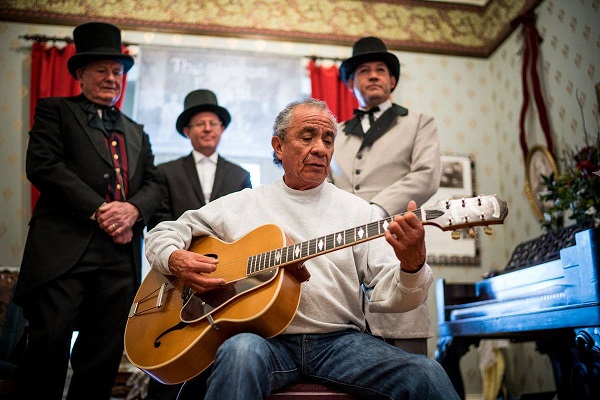 On Friday, March 1, 6:00pm the free concert series will continue with a special appearance by Grant County's very own Danny Cordova. Cordova, a life-long resident of our area, learned his broad repertoire of songs by listening to them, often on the radio as a child. Over time, he has enjoyed "jazzing them up a little," and he is known for the sweetness of his adaptations. His repertoire includes traditional Latin tunes from Mexico, Cuba, and elsewhere, played with his own twist, as well as jazz and country music. Cordova will also share history and stories about growing up in Grant County.
The concert series will conclude with an educational performance by Chuy Martinez, presented by the New Mexico Humanities Council. The event, titled "An American Dialogue: Latin American Ballads, Cumbia, and Nueva Canción," will be on Tuesday, April 2, 6:00pm. For decades, a rich conversation has been exchanging musical ideas between the Americas: the ballad, from Spain and Mexico; the cumbia, of Caribbean African/Indian roots; and nueva canción (new song), social struggle music influenced by U.S. labor and protest songs. Musician and folklorist Chuy Martinez puts the songs and rhythms in historical context.
Seating is limited and will be on a first-come, first-seated basis. Doors will open at 5:30pm, 30 minutes before performance time.
For a calendar of library events, see the Events and Activities page. The Silver City Public Library is located at 515 W. College Avenue, on the corner of College and Cooper Street.