Have

You

Heard

the

Wonderful

Buzz?!
                                                 Join the fantastic local beekeeper
                                                                   Susan Clair
                                    for a FREE presentation on honeybees for all ages!
The event will take place at the Silver City Public Library on 515 West College    Avenue. On Saturday September 16 at 11:00 am!
This is a great opportunity to come with the whole family to learn about how a honeybee provides for our community and ecosystem! The event will discuss many important facts that include;
The difference between a native bee and a honey bee.
The various strains of a honeybee
The event will address frequently asked questions!
How does one take care of honeybee swarms and infestations?
How is that you, as a community, can support honeybee health?
What is the crucial role a honeybee maintains our food supply?
What is the Grant County Beekeepers Association and can you be part of it?
                                                                FUN FACT:
Pollinators aid our community by providing almost half of our produce of fruits and vegetables at the supermarket!
                                So kick up your heels and come join the buzz!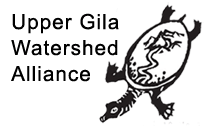 Sponsored by the
Upper Gila Watershed Alliance
and Silver City Library