The library is excited to be hosting the Youth Mural Camp program. Last week participants designed a mural for the plain cinder block wall in front of the library building along Cooper Street. They spent a lot of time creating their unique ceramic pieces to add to the mural. This week the children and teenage interns are installing their tile creations. The Youth Mural Program is a Mimbres Arts Council program sponsored by Leyba & Ingalls ARTS, Syzygy Tileworks, Prudential Silver City Properties, Comcast, Morning Star, Finishing Touch, and J&J Signs. The program is also funded by the National Endowment for the Arts and New Mexico Arts.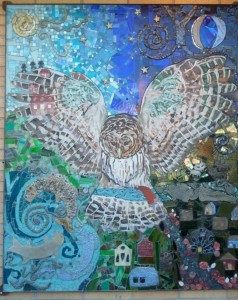 We are very fortunate to have a new mural at the library; our first mural was installed in 2009. It commemorates the book Bless Me, Última by Rudolfo Anaya.
More about the Youth Mural Program can be found at http://mimbresarts.org/youth-mural-program. A map of all the murals in our region can be downloaded there, or here: MRAC-Mural-brochure_web (PDF, 1.49MB)
The Silver City Daily Press recently published an article about this project: http://scdailypress.com/site/2017/07/15/kids-help-beautify-library-wall-during-youth-mural-camp/
The new library mural will be dedicated on Friday, July 21, 2017 at 12pm. Join us to celebrate!