Join us for a talk and book signing celebrating the release of a new science fiction title, Retrograde. The event will be on Tuesday, April 25, 4:00pm at the Silver City Public Library. The book is a social-political science fiction novel about interstellar diplomacy.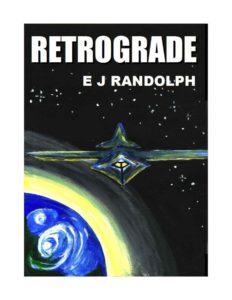 Kate Stevens, Federation diplomat, is tasked with re-establishing an embassy on a distant planet that cut off contact with others decades before. The political intrigue and societal upheaval she finds when she arrives promises to make the mission far more complicated–and dangerous–than anyone could have anticipated. In his Desert Exposure column "On the Shelf," Adam Palomino writes, "Author E.J. Randolph has a real knack for capturing the reader's attention and maintaining her hold, keeping the story from dragging. There is an effortless flow to her prose, making for a pleasurable reading experience." (Desert Exposure, April 2017, page 46: https://issuu.com/opc-llc/docs/2017-04-april)
Come chat about the book, eat some treats, and enter a drawing for space-themed prizes!