Libraries are many things for many people: a place to borrow books and other media, a place to access technology, a place to do business, a place to find quiet solace, a place for exciting learning experiences…  April will be the perfect time to visit your library in person or online and share your library story.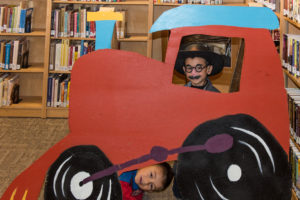 Join us for the annual Love Your Library Day celebration on Saturday, April 1, 10:00am-1:00pm at the Silver City Public Library, 515 W. College Avenue on the corner of College and Cooper Street in Silver City. Literacy Link-Leamos, the library's close partner organization which offers free tutoring and book giveaways, organizes this special celebration. This year for the first time Cooper Street will be closed between College and 8th Street, and there will be live music and outdoor games. Come enjoy cookies and snacks, free books, stories and activities for kids, and door prizes (including a $50 grand prize donated by Western Bank)! There will be no fee for replacement library cards on this day. Contact Literacy Link Leamos at literacylinkleamos.org or 388-0892 for more information.
April 9-15 is National Library Week! The American Library Association leads this annual initiative to raise awareness of how libraries transform communities, and how libraries are transforming themselves to serve communities every day. The 2017 State of America's Libraries report will be released on Monday, April 10. Celebrate with the Silver City Public Library by visiting us in person or online! Share what you love about libraries by leaving comments in the library building and on the library's Facebook page at facebook.com/SilverCityPublicLibrary. Check out fun social media campaign tools like profile pics and other images at the celebration page www.ilovelibraries.org/national-library-week. You're also invited to attend a workshop on how to borrow e-books and downloadable audiobooks at the library on Thursday, April 13, 10:00am-12:00pm.
With your support, the library will continue to transform and serve the community in new ways each year. Thank you!