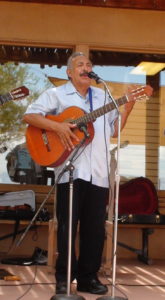 Dr. Cipriano Vigil will perform at the Silver City Public Library on Friday, February 3, 6:00pm as part of the library's spring concert series. The event will be an exploration of ritual and traditional folk music and song from Northern New Mexico. The concert is free and open to the public, thanks to the sponsorship of the New Mexico Humanities Council, the NM Department of Cultural Affairs, and the Friends of the Library.
Cipriano Vigil, a native of Chamisal in the Sangre de Cristo Mountains, is the living embodiment of nuevomexicano ritual music. As a boy, he learned from the previous generations of musicians at bailes (dances) and at entriegas, matrimonios y difuntos (christenings, marriages and funerals). Renowned as a composer, Vigil works in traditional genres such as the romance, the décima, the cuando, and corrido. Like the Mexican group Los Folkloristas with which he apprenticed in the late 1970s, his goal has been to research and master local styles, to introduce new listeners to traditional music, and to build on tradition by creating new compositions that address contemporary social themes. His songs in the nueva cancion tradition (related to U.S. protest and labor songs) address poignant issues of today.
Cipriano Vigil has been recognized by the New Mexico Endowment for the Humanities (now the New Mexico Humanities Council) and has performed at the Smithsonian Institution several times. He received the New Mexico Governor's Award in 1994, and taught for many years at Northern New Mexico Community College.
Vigil has also written a book about New Mexican music entitled New Mexican folk music: treasures of a people / Cancionero del folklor Nuevomexicano: el tesoro del pueblo. The book presents songs from Vigil's repertory, including much traditional material that has never been seen or studied before. Some of Vigil's original compositions also appear. The book and its accompanying CD are available to borrow from the Silver City Public Library.
The doors to the February 3 concert will open at 5:30pm, 30 minutes before performance time. Space is limited and will be on a first come, first seated basis. The library is located at 515 W. College Avenue on the corner of College and Cooper Street in Silver City. For more information call us at 575-538-3672.