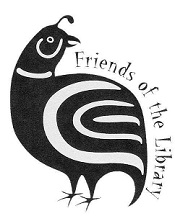 "A brilliant flight of bird books" has landed at the Silver City Friends of the Library's (FOL) Bookstore, just in time for the Fall Book Sale on Saturday September 10 from 10:00am-2:00pm.  The Bookstore is located on Market Street directly across from Cheyenne Street and six blocks west of the Habitat for Humanity Restore.
And it is not just the books about birds that have arrived–generous members of the Grant County community have donated boxes and boxes of  "new" additions to the all the Bookstore's collections.
Mysteries by well-known, loved, and best-selling authors such as J. A. Jance, Michael McGarrity, and Stuart Wood are shelved and ready for perusal and sale.  A fine selection of art books is ready and waiting, as are large collections of fiction, poetry, literature, reference books, cookbooks, food writing, travel writing, and books about gardening and landscaping.  Many other categories of writing are on the shelves, waiting to be discovered.
Bookstore visitors will find a treasure trove of history and military history books, books about the west and the southwest, books focusing on Native American history and culture including Apache, Cheyenne, Hopi, and Navaho, and digital gems in the DVD and audio CD collections.
Inside the Bookstore, hardbacks and better paperbacks will sell for $1 a piece; paperbacks, 50 cents/apiece.  Out in the parking lot, visitors can fill up bags, which are provided, with as many books from the parking lot tables as they can squeeze into each bag for $1/bag.  After 1:00pm, all books still on the parking lot tables will be available for free.
The Friends of the Library accepts donations of books from the public and uses these donations to raise funds to support the Silver City Public Library's programs and activities. For information about the Friends of the Library, contact folsilvercitynm@gmail.com