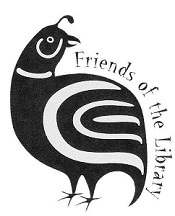 The Friends of the Library (FOL) is holding a month-long "Buy One-Get One Free" book sale at the Silver City Public Library.   Throughout July, loads of fiction and non-fiction hardbacks and better paperbacks will be available for purchase at $1.00 and regular paperbacks will sell for 50 cents.  Buy one book and get another of the same value free.
The sale takes place at the library located at 515 West College Avenue, Silver City, New Mexico 88061 during regular hours in July. Library hours are Monday-Thursday 9am-6pm, Friday 10am-5pm, and Saturday 10am-2pm. The books for sale are located in the large bookcase against the back wall facing College Street.  The cart holding non-fiction books is in front of the bookcase.
The Friends of the Library accepts donations of books from the public and uses these donations to raise funds to support the Library's programs and activities, including the summer reading program for all ages and concert series for adults. This month-long event is in addition to the four seasonal book sales that the Friends hold at the Friends' bookstore at 1510 W. Market Street.  The next seasonal book sale will be on Saturday, September 10, 2016.
Thank you for your support! For information about the Friends of the Library, contact folsilvercitynm@gmail.com