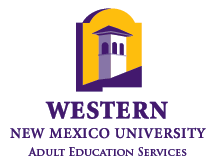 Technology workshop – Microsoft PowerPoint
Thursday, March 17, 4:00-5:45pm
Silver City Public Library, 515 W. College Avenue
This Thursday at the library WNMU Adult Education Services will present a basic technology workshop on how to make a slideshow or presentation using Microsoft PowerPoint. Job-seekers, entrepreneurs, and those seeking to boost their work skills are especially encouraged to attend. No registration necessary. There are 14 laptops available for participants to use.
The Silver City Public Library has formed partnerships with the Bayard Public Library, WNMU Adult Education Services, the New Mexico Small Business Development Center, New Mexico Workforce Connection, Literacy Link – Leamos, and others to offer free technology training opportunities in our communities. The digital literacy project promotes the development of the technology skills that contribute to economic growth and increase the capacity of citizens to fully engage in the community, access needed services, and participate in educational opportunities. The project began in March 2014 with a $15,000 grant from the Freeport-McMoran Community Investment Fund to purchase the equipment needed for a mobile computer lab. For more information, contact Lillian Galloway at the Silver City Public Library, 575-538-3672 or ref@silvercitymail.com.