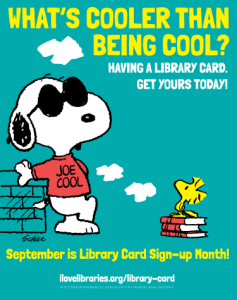 September is Library Card Sign-Up Month, and the Silver City Public Library will celebrate by offering free library card replacements between 9:00am and 5:00pm Wednesday, September 30.
Each person's first library card is always free, but the library normally charges $5.00 to replace lost cards. Free library card replacement days happen once or twice each year. It's a great opportunity for those who have lost their cards to regain access to library resources and services at no charge.
Besides the books, audiobooks, DVDs, CDs, and magazines available for checkout with a library card, members can use their cards to borrow e-books and downloadable audiobooks from New Mexico Library To-Go, at nm.lib.overdrive.com. You can contact the library at 575-538-3672 or ref@silvercitymail.com for more information about accessing these resources. The Silver City Public Library is located at 515 W. College Avenue and is open six days a week.