The Silver City Public Library is looking for ways to meet the needs of the communities it serves – and it's asking you to help by filling out a short survey. The survey, which is available both online and in print versions, is a chance for you to tell library staff what you want and need in a library.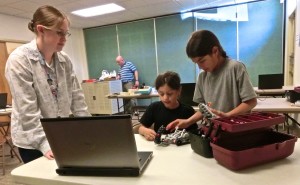 Thirty years ago, a library was a building with books in it, drawers of typed cards carefully arranged using the Dewey Decimal System, and microfiche magazines. But the traditional "bricks and mortar" model of the library is changing as more people turn to the Internet for research. Books and movies are widely available via streaming services, book readers, and other digital technologies.
People are using libraries more than ever before – but they are using them differently, often seeking low-cost entertainment options, job search, tax-filing assistance, and more. Research from the Pew Foundation shows that library patrons are still borrowing books, but they are also expecting libraries to fulfill a new role as a "community space" that offers access to technological tools, digital literacy, and other services.
"We will use the results of the survey to help us serve the needs of the residents of Silver City and the surrounding area," said Library Director, Eileen Sullivan. "This is your chance to help direct your library's growth in the 21st century."
"Those who complete our survey will remain anonymous while they help our Library continue to evolve. You can win prizes while having fun with the questions when you fill out the prize drawing ticket," Sullivan said.
The survey will be available April 1 through June 1. The survey is available online at http://surveymonkey.com/s/silverlibrarysurvey You can also request a copy by emailing ref@silvercitymail.com or calling 575-538-3672. Paper copies are available at the Library (515 W. College Ave), Town Hall, Hidalgo Medical Services (HMS), and other locations.
About the Silver City Public Library: Founded in 1952, the Silver City Public Library currently offers more than 39,000 fiction and non-fiction titles, as well as e-books, DVDs, CDs, magazines, online databases, computer work stations with Internet access, free Wi-Fi, and much more.